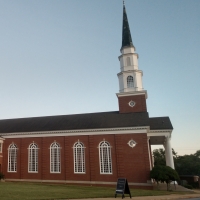 In our Beautiful Sanctuary
May 15, 2020
We are having our Sunday morning services inside our beautiful Sanctuary once again!!

For the duration of the month of May, Sunday morning services will only include the 11 am service.
Starting June 7th, we will add on Sunday School at 9:45, however, a little bit differently than the usual.
The adults will convene together in Howard Hall. The youth will convene together in the youth room or possibly Family Theatre area depending on attendance.

At this time we will still practice safe social distancing of 6 feet apart. The Sanctuary pews have been cordoned off with ribbon to show you where not to sit. Sitting in groups can only be with people in your own household. Face masks are encouraged but not required. Our restroom facilities are open but can only allow one person at a time in each bathroom.
Back